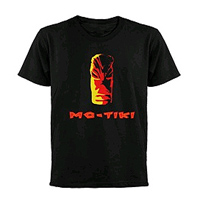 Mo-Tiki Black T-Shirt
This stunning black T features the torchlit visage of Mo-Tiki, famed face of the Mo-Tiki Tiki Mug who symbolizes the opposite of less tiki! This durable, high-quality, pre-shrunk 100% heavy cotton Black T made by Fruit of the Loom is now available for purchase online at Cafe Press!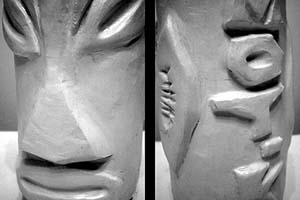 Mo-Tiki Tiki Mug
No tiki lounge is complete without its own signature mug! To this end, the face of Mo-Tiki was meticulously sculpted by island artisans (see model, left) for a VERY limited edition of finely glazed ceramic tiki "mugs". These detailed works of art are almost 7" high and hold 16 fluid ounces of tropical cocktail or a pint of your favorite lager. Available around Kalikimaka, 2005.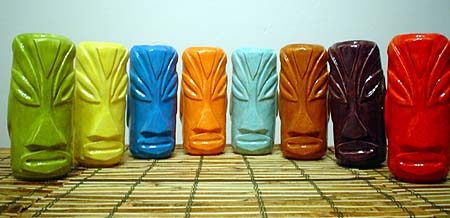 2006: The first edition of the Mo-Tiki Mug is now sold out!